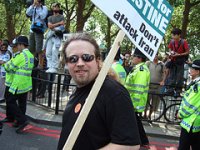 Somewhere between 20,000 (the Police estimate) and 100,000 (the organisers estimate) people turned up in Hyde Park yesterday in order to trudge to parliament square in protest at Blair's support for Israel's massacre of the Lebanese. It was all good, angry fun (apart from the sweat and thigh-chaffing) and very reassuring to see such a huge turn-out.
Afterwards, Tony and I had a couple of pints. One on the chavvy deck of the Tattershall castle floating pub, and one in the Sherlock Holmes surrounded by loud German tourists. Nothing like it. Under normal circumstances we'd probably had a few more but the night before was a tad heavy. In fact I was lucky enough to witness some of Tony's pre-puke drunken yoga moves.
A friend of mine wasn't happy about the whole idea of this protest as she felt that it was simply a huge anti-Israel/pro-Hizbollah movement. There were lots of reasons why I disagreed with her and we had a brief email debate about it before I went. During the march a little kid gave me a sticker that read "Hands off Muslim Countries" which I proudly wore for the rest of the day. It was only as I removed it today that I noticed the little URL at the bottom: www.hizb.org.uk. Oops.
Vodaphone, clearly recognising the profit potential of 100,000 people all trying to meet up with their friends in a huge park with mobile phones, sent a bunch of "promotions girls" along to give out lollipops to the protestors and coppers. I wonder if that same little boy managed to persuade them to wear hizbollah stickers on their vodaphone t-shirts ?