Around seven or eight years ago a Venezuelan friend of mine asked me if I'd ever heard of a "Scotch Egg". Obviously I explained how common they were in the UK, and asked how he could have possibly encountered them.
Anyone not from the UK needs to understand Scotch Eggs and the part they play, or rather the part they used to play, in British culture; we tend not to think about them unless we're actually eating one. If you ended up eating one during the course of your day it would be forgotten about almost immediately, and only brought to mind with an accompanying thought along the lines of "oh dear, I shouldn't have eaten that scotch egg!"
Consequently very few Brits ever spend time wondering where Scotch eggs come from. I suppose there are places where people do actually make them by hand and serve them to their families, but I've never seen anything like that. Generally Scotch Eggs are just there in your mouth at some point. You don't deliberately go out and buy them, and you certainly couldn't order them in a restaurant. Also, never in my entire life had I imagined they were possibly edible while hot!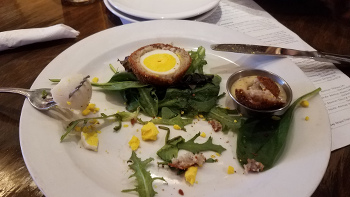 If you'd asked me where to get one I'd have probably suggested a service station or maybe the remaindered section of a low end supermarket like Iceland. Actually the front seat of a car parked in a motorway service station is probably the most appropriate place to eat one. It'll be cold, stuffed down to suppress hunger, and immediately forgotten.
At this point it's important to know that I have always liked them despite my general indifference. They were useful guilty pleasures made more enjoyable by the rarity of their appearance in my life.
But things have changed. The idea of a deep-fried egg wrapped in sausage meat and breadcrumbs seems to have triggered a level of excitement in those unfamiliar with the general concept and as a result they have been adopted by poncy restaurants in the US! You can frequently spend the best part of 10 bucks on a hot Scotch Egg in a posh eatery, and it will arrive with some gourmet dipping sauce, a rocket (arugula?) garnish, on a piece of distressed roofing material.
I used to chuckle in an inexcusably patronising way when I saw this happen in high end restaurants here: these Americans think Scotch Eggs are proper food!
Earlier this year I visited London and was shocked to discover that high-end Gastropubs were now serving gourmet hot Scotch Eggs (dip/leaves/slate etc) for the best part of 10 quid! How did this happen?
I had to try one. It was bloody gorgeous.