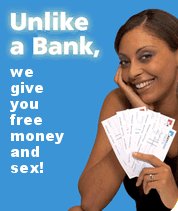 In celebration of passing the 500 mark on this blog I went to Lewisham hospital this morning for a couple of biopsies – almost certainly nothing serious, I think the guy was more curious than anything else. Lewisham Hospital, or rather "Lewisham University Hospital Trust", has, like every other former public body, succumbed to Marketing Psychosis; a curious disease that renders the sufferer incapable of distinguishing between reality and a TV advert. Throughout the clean and polished reception area are 5ft glossy banners, each depicting a loyal member of staff or a grateful patient, together with the caption "Choose Lewisham"…in one of those dreadfully tacky handwritingy typefaces.
Nobody chooses Lewisham Hospital do they ? Surely it depends where you collapse, get knocked-down, get stabbed, or where your GP sends you doesn't it ? Maybe not! Next time I'm in need of hospitalisation, no matter where in the world I am, I'll make sure to tell the paramedic that I "Choose Lewisham". Perhaps they should introduce a loyalty card, that they can put little red stamps on every time you get wounded or referred there. They could have a little catalogue of products you can exchange your Lewisham points for, from Witch Hazel to an electric wheelchair.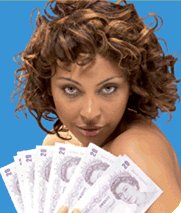 Two injections and a few stitches later I was on the 136 heading back home. It seems that not just the hospital, but the whole of Lewisham has Marketing Psychosis – very contagious obviously. Barclays bank have given over their entire front window to a huge blue arrow and the words "The coolest people in the world walk through our doors". And it would seem that it's not the only example of grip-loss going on at Barclays. Maybe we should try and section the bank manager there ?
But the Pièce de résistance was adorning front of the, recently closed down, "Money Shop". Closed down because it is relocating to larger premises – at least someone is benefitting from the poor and desperate in Lewisham. "The Money Shop" which is where you go to cash your magic cheques, even if you have no money in your bank account (for a ludicrously high fee, natch) is genuinely advertising itself using pictures of naked woman, waving fans of £20 notes at you! Look! Naked ladies! Free money! Come in! MONEY! NUDE LADIES! You couldn't make it up….etc ad nausiam…
BTW – I wrote a huge and depressing chunk about aging and decrepitude, but I took it out – you don't deserve to sit through that.
Please follow and like us: