This week I turned 34. What a thing to celebrate…
On Tuesday Raaach left work for good. A sad day but a happy one in reality because we were happy for her and decided to celebrate. Many of the assembled throng had problems getting into work the next day. Not me, of course, apart from not wanting to leave our beautiful parrot home alone (currently on my head).
Anyway, on my birthday, a bunch of good friends accompanied me to my favourite restaurant. I had such a good time! The restaurant people were really nice too, despite us clearing the place. They gave me (mister Martin) a free Dosa that was the size of three plates. 14 quid a head, including the massive amounts of wine. GO THERE! Gorgeous! Happy day!
This weekend, Michele came back from Exeter and a very good friend of mine, Ben, came up from Brighton for a visit. It was really nice to see him. Humph thought so too – tart :).We went out on Saturday night to "The Peninsula"; ostensibly to see HHGTTG, but also to eat.
We ate in "Nando's". Now, if you have never had the Nando's experience, let me tell you, it's as close to the experience of going to America can be without actually getting your fingerprints taken by a humourless, souless, American, civil servant. Not only do you have to queue up to get in, but you have to order and buy your own food before you eat (no refusing to pay if it turns out to be crap). If there's no cutlery you eat with your fingers. If you want water, you go to the tap with your glass…that you received when you ordered your manky, sugary, piss, from the "bar" and fill it yourself. If you were foolish enough to order a bottle of wine, then fuck-you. You are clearly anti-American and deserve to die of dehydration.
While you eat, you can look out the window at the scenic car-park and watch the cars go up the motorway. If you don't like such scenes then worry not. You can enjoy the happy atmosphere of the thousands of FCUK-clad chavs stuffing themselves with overpriced battery-chickens whilst listening to chart-inspired muzak. A fun day out for all the family.
I must admit that the hot sauce and the corn on the cob were pretty darned nice. But it wasn't cheap.
In fact, the whole experience of the peninsula was singularly horrible. Another American inspired hellhole where you're not welcome unless you drive. You can pick up busses outside the cinema for Thamesmead, Bexleyheath, Eltham and Woolwich, but not for Greenwich, Lewisham or New Cross. Considering that this place is actually in Greenwich (next to Lewisham, and New Cross), the situation is really fucking annoying. They clearly know their target audience. Already we're at the US position of not being regarded as true citizens unless we drive.
At the souless, miserable, multiple-screened, misery-temple, that is Greenwich Filmworks, there was a poster on the wall that sums up why I HATE ALL COPYRIGHT FASCIST COMPANIES, especially FACT, FAST, the BPI and the MPAA.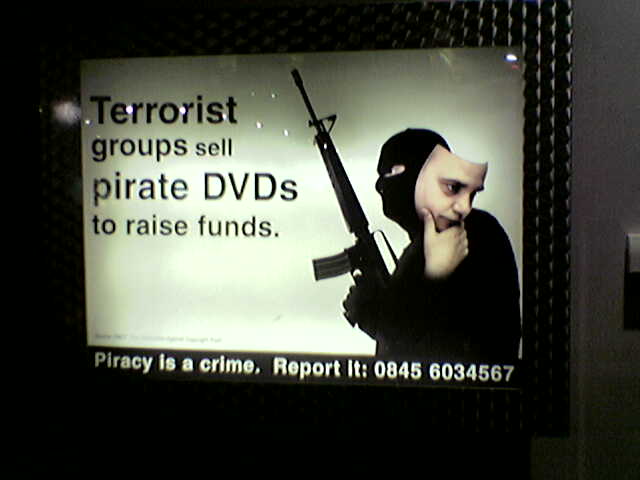 They are evil scum who suckle on satan's sulphurous teats. These BASTARDS, in conjunction with global capitalist Borg, have produced a poster that attempts to link pirate films with everyone's favourite easily understandable hate figure: terrorism! Yes! People have gone from normal dudes, through to terrorists, via criminality, just by downloading films that they're not necesserily interested in, but are far simpler to watch via download than by going to the fucking Greenwich peninsula. We're going to hell in a handcart etc ad nausiam…
Please follow and like us: