Here's a game for you. Go to this trivial, sycophantic fart of a website and try to find one sentence that isn't either:
trying to whore the author out to anything that pays
pretending that it has serious readers outside of the "editorial staff"
trying to whore the authors friends out to anything that pays
totally devoid of actual content
simply an advert for some shitty product/service/person that has asked for a plug in return for a freebie
and I'll send you a prize: a flying pig, together with some egested remnants of my hat.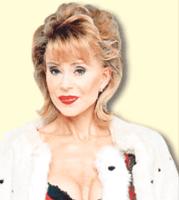 My favourite section is the "Celebrity Fashion, Fitness & Beauty" section, which is merely a vehicle for the talentless, Frankenhooker-wannabe Sally Farmiloe [Update 2008 – latest website at http://sallyfarmiloe.com/] to brag about her pathetic, tawdry lifestyle. In fact, on her website, Sally herself describes this section as "by far the most popular and covers international stars and products". No point being falsely modest is there ? The best quote concerns her doomed "mini it-girl" daughter: Jade. Sally declaimed:
We didn't have a butler at JADE's recent 13th birthday party cruising down the river on board THE EDWARDIAN (welcome to teenagerhood, JP) but we did have the best cake anyone's ever seen. Made by the delightful VICKY at [blatant, corrrupt whore-plug supressed] the beautiful chocolate cake was in the shape of a LOUIS VUITTON handbag, just the right symbol for today's designer-mad young gels.
Those designer-mad young gels eh ? Tchoh! I blame the parents. Personally I favour the creams over the gels any day.