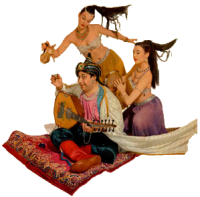 As you may know, I'm really into the idea of magic carpets. If you ever come across one then please get it for me – I'll pay you back, honest. But I don't mean any old rug that looks like a magic carpet, I mean a proper, flying, obedient magic carpet like in 1001 nights…anyway…
Thus far the closest I've ever got to one is watching things like The Thief of Baghdad (which is a really superb film by the way) and it's not quite the same. But years ago Michele's mum bought me a copy of Magic Carpet 2 which is a DOS game that was all about being a wizard and involved flying around on a magic carpet, casting spells and all sorts of good stuff like that. At the time I loved it but didn't get to play it much because it needed DOS and usually involved shutting down windows to get it working. Over time I ditched Windows altogether of course and so it became a distant memory.
However, this weekend I found the CD and realised I could probably play it on my work XP laptop because, as everyone knows, Windows runs all of your favourite old apps with no problem!
So excitedly I installed it and then watched it crash the machine a few times and balls-up my (Microsoft certified) video driver…
But isn't the reason people stick to Windows because they claim it'll run all of their old software ? What a piece of shit…
The point: I found DOSbox, a free DOS emulator that runs on Linux, MacOS and Windows, and it runs Magic Carpet 2 perfectly on my MacBook!
So – that means that an open source project can produce a better DOS emulator than Microsoft, who apparently wrote DOS. Right, I see.
BTW – Parallels/FreeDOS on the Mac didn't do a very good job either, but still better than Genuine(tm) Windows(tm) XP(tm).
P.S.
I'm serious about the magic carpet. If you see one, please get it for me. Really. I really do want one.