About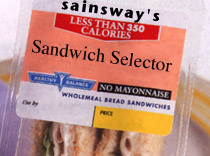 Reviews of sandwiches (pre-packaged, fresh or however you like it). Had a particularly good sandwich recently? What about a minging sandwich that really sucked? Send in your review! It's quick, simple and just needs a short description.

Vendor: M&S
Location: High Street Kensington, United Kingdom
Friday, July 27 2007 16:24
Containing: Roast Marinated Chicken, Mayo, Bacon, Cheese, Tomato, Cucumber
Review by Buzza:
A mighty sandwich but not for calorie counters. Plenty of chicken on the up side but a tad too much mayo. Should be good as an alcohol soaker-upper.
Price: £2.75
| | | |
| --- | --- | --- |
| Amount of Filling: | | 8/10 |
| Value: | | 6/10 |
| Overall: | | 8/10 |

Vendor: Pret A Manger
Location: London, United Kingdom
Friday, July 20 2007 11:54
Containing: Raosted salmon, hard boild egg, mustard mayo, salad
Review by veg:
A typically high quality production from the daddy of sandwichiers, Pret. Egg and salmon can be a beautiful combination, but most manufactures plump for the same option of smoked salmon and egg mayo which, whilst being delicious, is difficult to make interesting. But Pret have pushed the envelope by using hard boiled egg slices together with roasted salmon and mustard mayo in the salad. Altogether a gestalt of flavour and texture that fills and pleases with every bite. High quality bread and fresh salad are the extra touches that help justify the considerable price tag. My only complaint is that the fish tasted exactly like mackerel rather than roast salmon; not a problem for me, but other people may not appreciate it.
Price: £2.90
| | | |
| --- | --- | --- |
| Amount of Filling: | | 9/10 |
| Value: | | 5/10 |
| Overall: | | 8/10 |

Vendor: Chimes
Location: Leatherhead, United Kingdom
Monday, July 16 2007 11:50
Containing: Coronation Chicken(!) and salad
Review by Rich Wilcox:
Really very good. Salad was fresh and the baguette was nice and crisp and the chicken had a nice 'bit' to it.
Price: £3.00
| | | |
| --- | --- | --- |
| Amount of Filling: | | 8/10 |
| Value: | | 6/10 |
| Overall: | | 8/10 |

Vendor: Treats at Baker St
Location: Baker St Tube, London, United Kingdom
Wednesday, July 04 2007 21:07
Containing: Malted grain bread, taco roja mayo, red peppers, cheddar, red leicester, kidney beans, red onions
Review by veg:
This is NOT a taco. It's a brown bread sandwich. I can only imagine that the name was the result of some confusion at Treats. Having said that, it's probably one of the best sandwiches I've tasted in quite a while, and it definitely has a Mexican feel. It was packed and all of the ingredients were fresh, tasty and complimented each other perfectly. The "taco roja" mayo provided a much needed tang, and the red peppers a burst of freshness. The dreaded "malted bread" didn't have the typical sugary mulch aftertaste either, instead it was a solid and tasty container for the bountiful ingredients. There was a slight amount of front loading, but it could easily have been accidental, and the sheer amount of filling made up for it.
It's a winner!
Price: £1.90
| | | |
| --- | --- | --- |
| Amount of Filling: | | 8/10 |
| Value: | | 8/10 |
| Overall: | | 9/10 |

Vendor: Tesco
Location: Macclesfield, United Kingdom
Wednesday, July 04 2007 18:23
Containing: chicken bacon and lettuce
Review by William:
2 Words: TRULY AMAZING this was the most deligtfull sandwich that had ever set foot in my mouth it has so much flavour and B-E-A-U-T-I-F-U-L taste. The lettuce was a bit on the sloppy side big besides that it was ravishing. MUST BUY SANDWICH get your butt down Tesco now and BUY BUY BUY.
Price: £1.65
| | | |
| --- | --- | --- |
| Amount of Filling: | | 8/10 |
| Value: | | 6/10 |
| Overall: | | 9/10 |