About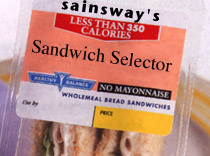 Reviews of sandwiches (pre-packaged, fresh or however you like it). Had a particularly good sandwich recently? What about a minging sandwich that really sucked? Send in your review! It's quick, simple and just needs a short description.

Vendor: Hokkaido University CO OP
Location: Sapporo, Japan
Thursday, June 12 2008 04:21
Containing: potato?! ham cucumber mayo
Review by rich:
A quality Japanese take on the sandwich despite being some what front loaded in the cucumber department. A weird triple decker job with the crusts removed (as is standard in the Japanese sandwich). Contains potato in one section, which again is common in Japan. Really cheap. Overall excellent.
Price: £0.80
| | | |
| --- | --- | --- |
| Amount of Filling: | | 5/10 |
| Value: | | 9/10 |
| Overall: | | 5/10 |

Vendor: Starbucks
Location: London, United Kingdom
Sunday, February 24 2008 17:41
Containing: Ham and Cheese
Review by Max:
This was a very tasty sandwich and definitely worth buying. The cheese was delicious and went well with the ham but the ham was a bit too strong. The bread was just normal white bread and held the sandwich well.
Price: £2.65
| | | |
| --- | --- | --- |
| Amount of Filling: | | 5/10 |
| Value: | | 4/10 |
| Overall: | | 8/10 |

Vendor: Superdrug
Location: Lewisham, United Kingdom
Monday, October 08 2007 13:53
Containing: Chargrilled chicken with sunblush tomato relish, yogurt, tomato and mixed lettuce in a multigrain tortilla
Review by Michele:
This sandwich is quite the deceiver. It looks so boring, but it is a taste explosion. SO tasty and interesting! Extra points for the yogurt dressing instead of the evil mayo. The only criticism I have is that the mixed leaf lettuce is not necessary and detracts from the sandwich as it goes soggy from the other ingredients. Otherwise, surprisingly top sandwich.
Price: £2.49
| | | |
| --- | --- | --- |
| Amount of Filling: | | 5/10 |
| Value: | | 5/10 |
| Overall: | | 5/10 |

Vendor: Costcutter
Location: London, United Kingdom
Wednesday, October 03 2007 23:51
Containing: Chicken, bacon, cucumber, seasoned mayo
Review by veg:
Cucumber is an unusual ingredient to find in a sandwich labeled "Chicken and Bacon", and whilst it may infuriate the surprisingly large number of cucumberphobics out there, it certainly does alter the entire timbre of the ensemble. And personally, I loved it. Not only did it alter the texture, providing a crisp edge to the otherwise soggy bacon/mayo mix, but also a refreshing lift in flavour.
Every so often the tranquility of the experience is jarred by a surprising tang of vinegar and pepper in the mayo which really gives this excellent sandwich an advantage over the similar offering from other manufacturers.
It certainly wasn't perfect: nearly three quid, contained evidence of front-loading and the all too common "malted" sugary bread. However these are very minor points and the shop was in a very affluent area of London which may explain the price. In all it seems that Ginsters have sucessfully bridged the gap between pasties and sarnies. Good stuff.
Price: £2.79
| | | |
| --- | --- | --- |
| Amount of Filling: | | 6/10 |
| Value: | | 6/10 |
| Overall: | | 8/10 |

Vendor: M&S
Location: High Street Kensington, United Kingdom
Friday, July 27 2007 16:24
Containing: Roast Marinated Chicken, Mayo, Bacon, Cheese, Tomato, Cucumber
Review by Buzza:
A mighty sandwich but not for calorie counters. Plenty of chicken on the up side but a tad too much mayo. Should be good as an alcohol soaker-upper.
Price: £2.75
| | | |
| --- | --- | --- |
| Amount of Filling: | | 8/10 |
| Value: | | 6/10 |
| Overall: | | 8/10 |