About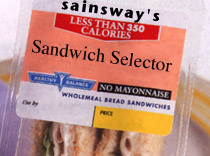 Reviews of sandwiches (pre-packaged, fresh or however you like it). Had a particularly good sandwich recently? What about a minging sandwich that really sucked? Send in your review! It's quick, simple and just needs a short description.

Vendor: Ben's Kitchen
Location: Marlow, United Kingdom
Tuesday, September 13 2011 01:19
Containing: Local Ham, White Crusty Bread, Tewkesbury mustard
Review by Benny:
As two bits of bread and some ham go... I think this was.. a legend of the ham and mustard combination. Quite often I have been thwarted at a supermarket/mart, with a very luring sandwich with the above combination, but it has never cut the mustard... excuse my (really bad) pun!
I have now come to my senses and are/am.. creating my own personal line of the classic Ham & Mustard combination.
Its called Ham & Tewkesbury!
"Tewkesbury" I hear you hark! What the devil is that my dear boy?"
Well, believe it or not Tewkesbury mustard dates back 17th century England and it's even mentioned in Shakespeare's play of Henry IV. It contains a mixture of Mustard/Horseradish and vinegar. wow.
If you cant get hold of such a product then don't worry, all you need to do is follow the steps bellow with a pinch of salt!.

1 tsp English Mustard (must be english)
1 tsp Horseradish sauce
1/2 tsp white wine vinegar

mix well...

Sir B Tewkesbury

x

Price: £1.50
| | | |
| --- | --- | --- |
| Amount of Filling: | | 10/10 |
| Value: | | 10/10 |
| Overall: | | 10/10 |

Vendor: Random Cafe
Location: Edinburgh, United Kingdom
Tuesday, December 30 2008 13:17
Containing: Bubble and squeak, farmhouse cheddar, cranberries, mulled wine chutney, lettuce, malted brown bread.
Review by Mispy:
I chose this because it looked like an interesting and festive reworking of my all-time favourite Cranks sandwich - the yummy 'Cheddar Gorge'. As in the original, the cheese is a wonderfully tangy, crumbly farmhouse variety and the bread is a nutty malted brown. Very nice. The bubble and squeak was visibly present, but taste-wise was barely discernible against the powerfully flavoured cheddar, balanced by sweetly spiced mulled wine chutney. The latter had unfortunately soaked into the crust in one corner, leaving a rather soggy, sickly offering. A shame, because the rest of it was pretty good.
Price: £2.85
| | | |
| --- | --- | --- |
| Amount of Filling: | | 8/10 |
| Value: | | 6/10 |
| Overall: | | 6/10 |

Vendor: Dunkin' Donuts
Location: Voorhees, New Jersey, United States
Thursday, July 24 2008 20:02
Containing: Turkey, cheddar cheese, bacon strips
Review by Mike Deeee:
Something other than donuts at Dunkin' Donuts? Yes, and it's actually pretty good. Today I was looking for something for lunch and noticed Dunkin' Donuts is now selling Flatbread sandwiches. It's about the size of a slice of pizza. Anyway, I chose the turkey, cheese and bacon sandwich and was glad that I did. They pop it in a oven and it comes out nice and crispy with the cheese oozing out the sides, perfect! Also, without any damn vegetables and mayo crap either, just the way I like it.

Paired with a cup of coffee or soda, it should be under $5.00 not bad I think it was 3.36 or some weird price for the sandwich only.
Price: £3.36
| | | |
| --- | --- | --- |
| Amount of Filling: | | 6/10 |
| Value: | | 5/10 |
| Overall: | | 8/10 |

Vendor: Subway
Location: Retford, United Kingdom
Tuesday, July 15 2008 14:32
Containing: Reggae Reggae Sauce Marinated Chicken, Fire Roasted Peppers and Onions, Cucumber, Tomatoes, Lettuce, Olives, Jalapeno's, Wheat (Brown) Bread
Review by Alex Thorne:
By now, you will have probably all seen the advert for this particular sandwich, but what you may not remember is the back story of the particular sauce used. The titular "Reggae Reggae Sauce" and its pioneer Levi Roots was first seen three years ago on the BBC hit programme "Dragons Den", from which it recieved the investment it needed to become a top label product.

Anyway, onto the Sandwich itself.

Pro's: firstly, the chicken itself was of excellent quality, and the sweet, tangy, slightly spicy RR Sauce complimented it beautifully.
Secondly, if you go for all of the salad options that i have outlined in the description, then you get one mighty sandwich that, although not recommended for those with small mouths, will leave you very satisfied
Thirdly, for those with health in mind, it is all in all a very good choice, clocking in at just 340 calories and 6 grams of fat for a 6 inch sandwich. (if ordered like it is described above. adding cheese, mayo, et al will affect these values). Pleasure without the guilt!

Con's: Firstly, the Roasted Peppers and Onions do look a little slimy and somewhat off-putting. Although they taste better than they look, you would expect it to look a little more appetising.
Secondly, as with a lot of Subway's menu fare, it is a little on the pricey side, clocking in at £3.49 for a 6 inch, and a staggering £6.20 for a foot-long. Not an everyday thing for the conscious spender!
Thirdly, although it is a largely healthy sub, it packs in 3 grams of salt, but thankfully it is not to noticeable on the palate.

All in all despite its flaws, it is still an excellent addition to the Subway roster, which will hopefully be made a permanent menu choice.



Price: £3.49
| | | |
| --- | --- | --- |
| Amount of Filling: | | 9/10 |
| Value: | | 6/10 |
| Overall: | | 8/10 |

Vendor: Hokkaido University CO OP
Location: Sapporo, Japan
Thursday, June 12 2008 04:21
Containing: potato?! ham cucumber mayo
Review by rich:
A quality Japanese take on the sandwich despite being some what front loaded in the cucumber department. A weird triple decker job with the crusts removed (as is standard in the Japanese sandwich). Contains potato in one section, which again is common in Japan. Really cheap. Overall excellent.
Price: £0.80
| | | |
| --- | --- | --- |
| Amount of Filling: | | 5/10 |
| Value: | | 9/10 |
| Overall: | | 5/10 |